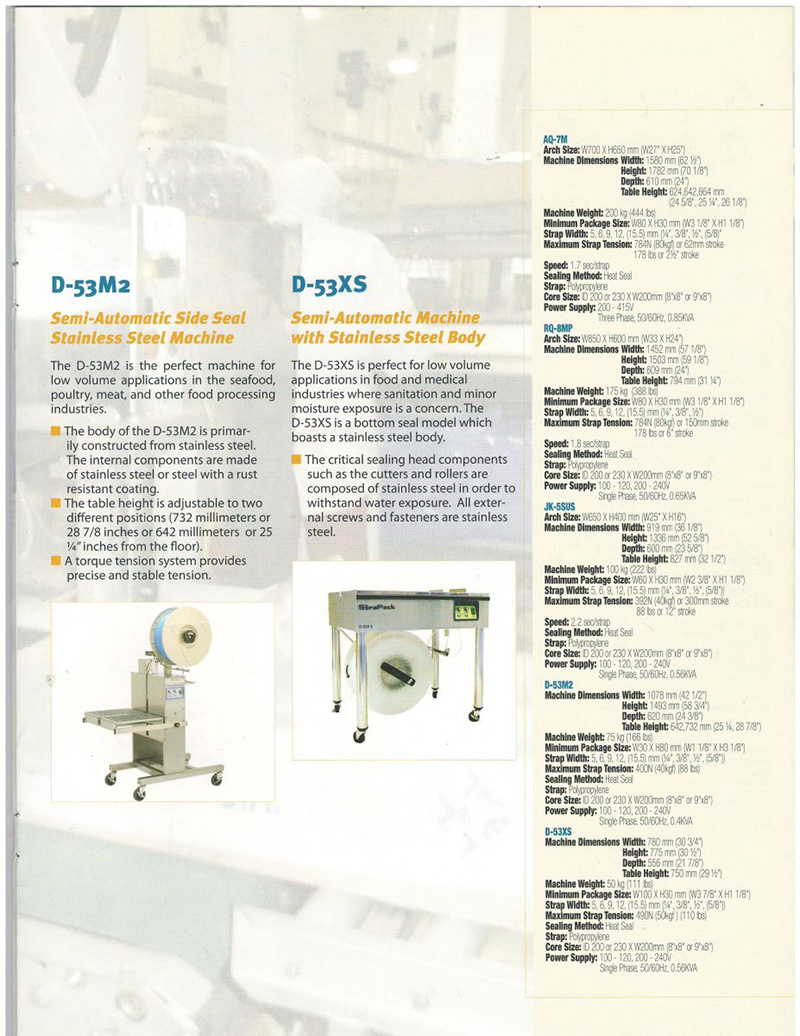 Product specification
D-53XS is the perfect device for small volume applications in the food and medical industry, where hygiene and humidity issues are of primary concern. D-53XS is a black box belt machine with belt roll placed under the machine and the body is made of stainless steel. Important components such as cutting parts and rollers are also made of stainless steel to withstand long-term water exposure. All types of screws and bolts are also stainless steel.
DREAM MODEL D53-XS2
SPECIFICATIONS :
* Machine size: 780 x 556 x 775 mm
* Machine volume: 50 kg
* The tension of the machine is adjusted from 2 - 50 kgf
* The smallest product size for the machine: 100mm x 30mm
* Product weight: 50 kg
* Belt used for machines: 9mm, 12mm, 15mm
* Power source for the machine: 220V - 1 phase - 0.4 KW
Characteristics:
- Machines for wrapping straps of packages ...
- The welding temperature of the machine is adjustable.
- Welding knife made of steel with high hardness.
- Transmission by clutch structure, high durability without noise.
- Machine works stably, especially not picky.
- Machine made of electrostatic paint or stainless steel.
- Circuit board is securely protected in sealed boxes.
- Motor will stop after 60 seconds without operation.
- Machine designed standard, high durability, easy maintenance.
THANH BINH PROVIDER, REPAIRING THE LEADING MACHINE IN VIETNAM
THANH BINH CO., LTD professional supplier of packaging machinery and equipment: CAMPING MACHINE PALLET
Belt strapping machine, Vacuum machine, Bag sealing machine, Carton sealing machine, Pallet wrapping machine, Metal detector ...
+ As a genuine supplier of Strapack belt strapping machine (Japan).
+ As an exclusive supplier of Metal detectors of NIKKA (Japan)
+ As a distribution representative of SuperPack, SuperProvac ...
THANH BINH - RELIABLE SUPPLIER AND MAINTENANCE:
+ Distribution of genuine spare parts.
+ An enthusiastic professional technical staff trained by foreign experts.
+ Attentive customer care department.
+ Buy a machine in Thanh Binh You will be given regular maintenance during the warranty period.
What do you get to Thanh Binh?
+ Get to see the machine and try it before buying.
+ Be enthusiastically consulted by the staff before buying the machine.
+ Technical support during the time of using the machine.
+ Genuine repair and replacement parts
+ Enjoy many other preferential policies ...